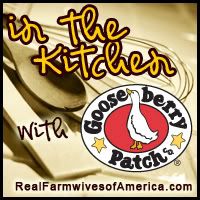 What a week it has been!  Thank you to all of you that voted over the last week to determine which Gooseberry Patch cookbook I will cook from in the coming months.  Sunday Dinner at Grandma's took an early lead in the voting and never let up; so, over the next 3 months be sure to follow along as I will share 10 recipes from this cookbook at 3 kids and lots of pigs.  And remember, when I am done, I will give-a-way a copy of Sunday Dinner at Grandma's to one of my lucky readers.
Remember the fun doesn't stop there, we have 19 Real Farmwives and Friends, including myself, participating in this amazing partnership so today it is also my pleasure to introduce Leah from Beyer Beware. 
1.
Who taught you how to cook?
Who taught me to cook…my mom, as we would make batch after batch of cookies to get

 

a dozen uniform cookies to take to the 4-H judging. 4-H and my mom's patience was the starting place for me. When I lived in the cooperative sorority, 4-H House at the University of Illinois, I got to experience cooking for over 50 college gals at a time. At that point I learned that sometimes you just crank the oven to 450 degrees and pray it gets done. Both experiences were lessons that helped me develop my skills in the kitchen.
To not cut my fingers
!!! I swear since I have gotten my super-duper expensive knives that actually have edges that can cut veggies without sawing; I have gone through 4 boxes of band-aids. Someone help learn how to dice quickly without slicing my fingers.
3.
What is the one thing you can't live without in the kitchen?
Butter. Amen. I need for sweet and savory dishes. And it came in handy when my hands were so swollen during pregnancy to slip my wedding band off.
4.
What is your go to dish when company comes a calling?
Well, if I know at least 8 hours in advance,
Italian beef
. If I have two hours notice, I am making
calzones
or
my ham sammies
. All are kid friendly and easy to pair with a lettuce salad or steamed veggies.
5.
What is your least favorite chore in the kitchen?
6.
What is your favorite thing in the world to cook in your kitchen?
Pasta dishes. From mac and cheese to chicken and penne. Love anything that requires me to sauté garlic in butter.
7.
Where would we find you when you aren't cooking in the kitchen? 
Work. I work too much helping to make sure farmers are able to continue to provide all of us with safe, affordable food, grown right here in the U.S. And then probably chasing my kiddos down.
Now is where we need your help again.  Please vote between now and 9pm EDT on Monday, April 25th by leaving you choice in the comments below to determine which amazing Gooseberry Patch cookbook Leah will cook from over the coming months and then give-a-way on her blog.