Looks like Lou will be cooking from Summer in the Country!
Now it's time to meet another cowgirl who puts the Gin in Gin and Juicy Juice!
Ginny, the "Gin" in Gin and Juicy Juice is a working mom, trying to balance motherhood with a full time job and running a small farm with her husband. Ginny enjoys spending time with family, showing horses and shopping. While she would like to call herself a great cook…it is an experiment at best! Ginny is enjoying life with her sweet little girl and incredibly patient husband!
Blog: www.ginandjuicyjuice.blogspot.com
So let's find out what's going on in her kitchen…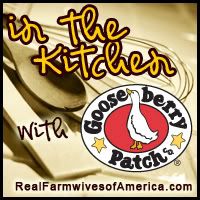 Who taught you how to cook?
My mom taught me how to cook…actually she is still teaching me! I call her all the time asking how to fix one thing or another! I hate to admit this, but one time I called to ask her how long to boil an egg!
If you had a superpower in the kitchen, what would it be?
I wish I could magically know the internal temperature of EVERYTHING! It would really keep me from overcooking a lot!
What is the one thing you can't live without in the kitchen?
I can't really narrow it down to one, so I am going with two! First is my digital meat thermometer. I tend to overcook everything! So with this handy little gadget, I can cook meats to the proper temperature every time!
My other kitchen must have is definitely my Kitchen Aid Stand Mixer. I use it all the time and not just for baking! It is perfect for making mashed potatoes.
What is your go to dish when company comes a calling? 
I don't have a specific meal for guests; however, I do have a few of my own recipes that seem to be crowd favorites! My mashed potatoes are pretty popular at dinner parties. They are just your basic mashed potatoes with a few of my own modifications. Mod, 1: Dry your potatoes in the pot on the stove after draining the water off. Mod. 2: add a package of cream cheese and a dash of garlic salt while mashing.
My other go to dish is guacamole. Nothing fancy, the key is fresh ingredients. Mashed avocados, fresh chopped cilantro, diced tomatoes, diced red onion and lots of fresh squeezed lime.
What is your least favorite chore in the kitchen?
My least favorite chore in the kitchen is emptying the dish washer! No specific reason for my disdain, I just hate it!
What is your favorite thing in the world to cook in your kitchen?
My favorite thing to cook is probably cake pops! They are a little time consuming, but the end product is so much fun and they make a great conversation item at parties!
Where would we find you when you aren't cooking in the kitchen?


When I am not in the kitchen, I am likely chasing my 20 month old daughter around the house, helping my husband with our cattle or playing with my horse!
Now let's help Ginny pick a book to cook from!