Dear Reader-
As we have shared over the last week or so, several of the Real Farmwives of America and Friends had a great opportunity to share some of the tips from our kitchens with a great group of women at my church.
After such a lovely day of sharing, we thought it would be a lot of fun to share those tips here with you in a little series, so without further ado, 50 Kitchen Tips from RFOA starts here today with Tips 1-5.
Tip#1: Know Your Labels
Miss Heather shared this tip with you yesterday. Labels can be expensive and overwhelming at times and sometimes downright silly. Check out Miss Heather's post to help you navigate some of the popular marketing labels.
Want some further reading? Check out Miss Marybeth's new site that digs deeper into many of the food questions consumers have about the way food is produced today.

Tip #2: Know Your Meat: The Pork Loin
Miss Heather shared about the versatility and affordability of the pork loin– which just so happens to be as lean as chicken breast. She shared how purchasing a pork loin (a larger cut than the typical tenderloins) could serve a family several meals via the crockpot or oven. Roasts, chops or pulled pork are all options with this versatile cut.
Tip #3: Make Your Own Chops
Another great use for a pork loin is to cut it up and make your own boneless pork chops.
Tip # 4: Know Your Temperature
Miss Heather explained that the "done" temperature for pork was recently lowered to 145 degrees for pork loins, roasts and chops with a  3 minute rest time after cooking. Ground pork must cook to 160.
Cooking temps are important because under-cooking is a food safety concern, however, overcooking dries out your meat and zaps the flavor.
Cook your meat with confidence using this full listing of food safety temps for all kinds of meats.
Tip #5 Use a Digital Thermometer
Along those lines, there is no better way to cook with confidence than to cook with a  digital thermometer. I use mine to get perfect chicken every time…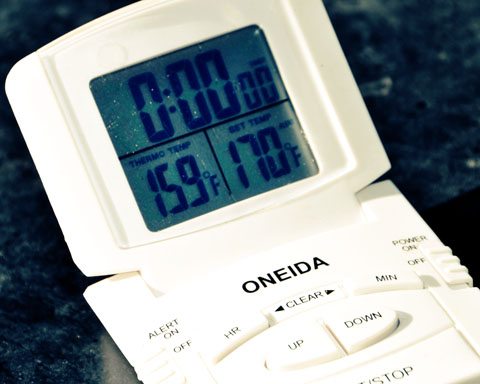 Once you start cooking (and grilling) with one, you will never want to go back. I just love the one above that allows me to read temps with the oven door and grill hood closed.
So there ya have our first installment of our Kitchen Tips Series…
Tips 6-10 will be full of money saving ideas… stay tuned!