The official beginning of summer isn't until June 21st, but many people consider Memorial Day to be the start of summer fun.  People all over the country will be firing up their grills to kick off warmer weather, longer days, and the beginning of fun!  I know after the winter we had, I am ready for summer!  In honor of grilling season, I have compiled some of my favorite recipes from my fellow Real Farmwives.
I cannot wait to grill up these BBQ Bacon Cheddar Burgers from Cris over at Goodness Gracious…
This Basil Lime Chicken is a family favorite in Cris' household.  It's not just marinated, but marinated twice so you know it has to be good!
Miss Leah at Beyer Beware tells us which steaks are the best to grill as well as the perfect way to grill them.
Another goody from Leah, Sweet and Spicy Pork Grilling Rub..
Liz from Two Maids a Milking says that she loves to grill and loves that almost anything can be thrown in foil and cooked on the grill which means no messy dishes!  Check out her Simple Chicken in a Bag recipe…
Liz wasn't a fan of ribs until she made this recipe for her husband and now she loves them.  Her homemade BBQ consists of only 3 ingredients!  She also shares a recipe for Camping Potatoes in this post.
This recipe is from yours truly.  These Caramelized Beef Skewers are a favorite in our house!
And what grilling recipe is complete without a side of baked beans?  Cris from Goodeness Gracious shares her super easy baked beans recipe with us.
Last but certainly not least is another recipe from Cris, Creekside Potatoes.  These look so good!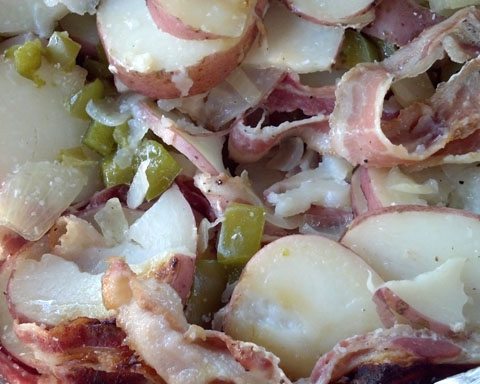 So fire up that grill this Memorial Day and wow your friends and family with some of these great recipes!  Happy Memorial Day!