One of my favorite crafts to make with the girls each Christmas is ornaments.  We've started a tradition that's been going on for about the past 7 years.  Every year we make a new ornament.  Some years it's only one ornament, some years it's three.  I love decorating the tree each year and seeing all of their past creations.  I don't know what we are going to do when we run out of room on our tree.  I often joke to my husband that we will soon need two trees.  He doesn't quite agree with me..and I'm not really joking;).  I've added pictures of some of my favorite handmade ornaments.  Some are mine.  Some I found on Pinterest.
We made these easy peasy melted crayon ornaments last year during B's birthday party.  They were a hit!
I like to incorporate one craft every year that highlights the true meaning of Christmas.  This ornament is currently on my favorite list:
We made this light bulb snowman ornament a couple years ago.  A great way to recycle old light bulbs:
B made a light-up snowman ornament like this one in school last year.  So simple and cute!
No craft is complete without glitter, right?  I think these glitter bulbs might make our list this year:
I love anything with finger prints, hand prints, or foot prints, so I definitely love these thumb print reindeer ornaments.
Every year I have an ornament made from Mpix with our Christmas card picture on it.  I love how inexpensive Mpix products are and how fast they arrive at my doorstep.  I feel this is another neat way to document each passing year.  (Mpix didn't pay me a dime to say any of that, that's how much I love them!)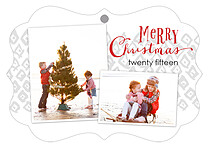 These are my favorites, now I just have to decide which one, or three to make with the girls this year!  Merry Christmas everyone and happy crafting!!